News from Ashlin Monday, June 15, 2015
---
The Latest Advances in Hardware and Software Engineering for Higher Flexibility, Lower Complexity and Stronger Investment Protection, at a High-Value Price Point.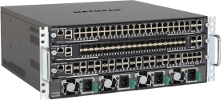 The NETGEAR® Chassis M6100 series delivers L2/L3/L4 and IPv4/IPv6 rich services for enterprise edge and SMB core deployments, as well as 1G / 10G mixed infrastructures in server rooms. Innovative distributed fabric provides non-stop forwarding resiliency and world-class availability - including passive backplane, hitless failover, redundant fabric and redundant management - without having to pay the exorbitant acquisition and maintenance costs associated by other networking vendors in this class.
The bottom line is this three slot chassis can provide incredible port density at a much lower cost than anyone else in this market, with an unheard of lifetime warranty! For everyone used to paying for expensive annual support for their network infrastructure, this is huge!
Key features
Proficient access layer in campus LAN networks, and competent distribution or core layer for midsize organizations networks
Advanced Layer 2, Layer 3 and Layer 4 feature set - no license required - including PBR, BGP, DCBX, PFC, ETS and FCoE FIP
1.4 Tbps switching and routing capacity, passive backplane, management and fabric nonstop forwarding redundancy
Up to 144 (Gigabit) ports, or 72 (10 Gigabit) ports, or a combination of both in dense form factor models
PoE+ (30 watts per port) and UPOE (60 watts per port) modular, flexible implementation
Ultra-low latency and scalable table size with 32K MAC, 8K ARP/NDP, 4K VLANs, 12K routes
PoE and UPOE
Any Gigabit copper blade can receive PoE+ or UPOE daughter cards for easy upgrade / downgrade and best investment protection
Up to 3,000W PoE budget is provided by internal power supplies when 6,000W are available with additional 1U power shelf
All set for rapid proliferation of PoE/PoE+ devices, such as IP telephony endpoints, 802.11n / 802.11ac access points and IP security cameras
Future-proof 60W UPOE power delivered to next-gen VDI clients or physical security devices; UPOE is backward compatible with PoE/PoE+
Software
Advanced classifier-based, time-based hardware implementation for L2 (MAC), L3 (IP) and L4 (UDP/TCP transport ports) security and prioritization
Voice VLAN with SIP, H323 and SCCP protocols detection and LLDP-MED IP phones automatic QoS and VLAN configuration
Efficient authentication tiering with successive DOT1X, MAB and Captive Portal methods for streamlined BYOD
Best-in-class IPv4/IPv6 static and dynamic routing including Proxy ARP, OSPF, BGP, Policy-based routing and automatic 6-to-4 tunneling
Enhanced IPv4/IPv6 multicast forwarding with IGMPv3/MLDv2 Querier and Control Packet Flooding protection
High performance IPv4/IPv6 multicast routing with PIM timer accuracy and unhandled PIM (S,G,rpt) state machine events transitioning
Advanced IPv4/IPv6 security implementation including malicious code detection, DHCP Snooping, IP Source Guard protection and DoS attacks mitigation
Innovative multi-vendor Auto-iSCSI capabilities for easier virtualization optimization
Datacenter-ready features include DCBX (802.1Qaz), Priority Flow Control (PFC), Enhanced Transmission Selection (ETS) and FCoE FIP Snooping
Resiliency and availability
Passive backplane, distributed redundant fabric and redundant management provide hitless, nonstop forwarding failover protection for always-on availability
Redundant N+1 power protection contributes to business continuity management
Distributed Link Aggregation across all I/O blades allows for multi-resiliency and advanced load balancing capabilities
Multi Chassis Link Aggregation (MLAG) between two M6100 switches overcomes limitations of Spanning Tree, increasing bandwidth while preserving redundancy
Per VLAN Spanning Tree and Per VLAN Rapid Spanning Tree (PVSTP/PVRSTP) offer interoperability with PVST+ infrastructures
Virtual Router Redundancy Protocol (VRRP) provides backup for any statically allocated next-hop router address going down, increasing default path availability
Management
DHCP/BootP innovative auto-installation including firmware and configuration file upload automation
Industry standard SNMP, RMON, MIB, LLDP, AAA, sFlow and RSPAN remote mirroring implementation
Selectable service port for out-of-band Ethernet management (OOB)
Selectable standard RS232 straight-through serial RJ45 and Mini-USB ports for local management console
Standard USB port for local storage, logs, configuration or image files
Dual firmware image and configuration file for updates with minimum service interruption
Industry standard command line interface (CLI) for IT admins used to other vendors commands
Fully functional Web console (GUI) for IT admins who prefer an easy to use graphical interface
Single-pane-of-glass NMS300 management platform with mass-configuration support
NETGEAR Warranty
This product is backed by a NETGEAR ProSAFE® Lifetime Hardware Warranty.
Lifetime Next Business Day Hardware Replacement. Click here for coverage, availability and terms and conditions.
ProSUPPORT 24x7 Advanced Technical Support via phone for 90 days (Remote diagnostics performed by our technical experts for prompt resolution of technical issues). ProSUPPORT coverage can be extended by purchasing one, three, or five year contracts.
ProSUPPORT Lifetime 24x7 Advanced Technical Support via chat. (Remote diagnostics performed by our technical experts for prompt resolution of technical issues).
---
Windows Storage Server 2012 R2 Essentials is the latest version of Windows Storage Server that is designed for small businesses that want to leverage cloud services in a NAS appliance. It enables cross-premise functionality, providing small businesses with robust on-premises solution for file and print, client backup and restore, secure remote access, and identity management services, combined with optional off-premise services supported by Microsoft.
File History automatically maintained to protect against accidental change or deletion including recovery without IT or an administrator.
Will backup client computers with

Data Deduplication

Server backup to an internal or external drive with Data Deduplication

Bitlocker drive encryption will prevent physical theft from resulting in data loss

Software Defined Storage simplifies managing space on different logical drives

Integrated with Office365 for simpler management and Azure for off site storage and backup, and virtual servers

Simple to manage

No client access licenses (CAL) required

Remote Access and VPN included

Branch Cache syncs data between offices

Pre-installed with the Ultimate Package from Orbweb, users will be able to easily transform their Windows NAS into their own personal cloud without network configuration. Enjoy an always accessible cloud experience, while keeping your data in your hands.
Thecus has a variety of models available with 2 to 5 drive bays. Each includes either a SSD or SSHD boot disk for fast operating system load.
---
Until July 4, 2015 we can offer you the following promotions on the Trimble Nomad 900 Series.
DOCKING BUNDLE: Add on the USB Docking boot for the Nomad and Nomad Office Docking Station - total value $390
ENERGY BUNDLE: Add on an extra battery, spare battery charger and its carrying case - total value $206
PRICE OPTION: Purchase individual Nomad 900 series handheld computers and get $150 off each.
Choose from the 900B, 900L, 900LC, 900LE, 900X and 900XE models.

Nomad Accessories included with this Promotion:

Nomad Configurations

Flash

Card Slots

BT

GPS

Wi-Fi

WWAN

Camera

Laser Scanner

900B

512 MB

SD/CF

X

900L

1 GB

SD/CF

X

X

X

900LC

1 GB

SD

X

X

X

X

900LE

1 GB

SD

X

X

X

X

X

900X

2 GB

SD/CF

X

X

X

X

900XE

2 GB

SD

X

X

X

X

X

X

| | | | |
| --- | --- | --- | --- |
| Part # | Description | Current List Price | Bundle Price |
| ACCAA-156 | Nomad USB Docking Boot | $95 | $0 |
| ACCAA-707 | Nomad Office Dock | $295 | $0 |
| ACCAA-101 | Nomad Li-Ion Battery | $95 | $0 |
| ACCAA-650 | Nomad Spare Battery Charger | $50 | $0 |
| ACCAA-600 | Nomad Charger Carry Case | $25 | $0 |
---
In cooperation with the Consumer Product Safety Commission (CPSC), Lenovo is expanding the recall announced March 27, 2014. Lenovo is voluntarily recalling approximately 921,500 lithium-ion batteries worldwide. These batteries were manufactured for use with ThinkPad notebook computers that shipped between February, 2010 and June, 2012. In the interest of public safety, Lenovo will offer customers free-of-charge replacement batteries for all recalled batteries.
Lenovo sold the batteries with new notebook computers in the models listed below or as optional stand-alone or replacement batteries:
Edge 11, Edge 13, Edge 14, Edge 15, Edge 120, Edge 125, Edge 320, Edge 325, Edge 420, Edge 425, Edge 430, Edge 520, Edge 525, Edge 530
X200, X201, X200S, X201S, X220, X220T, X100E, X120E, X121E, X130E
T410, T420, T510, T520
W510, W520
L412, L420/421, L512, L520
These models may have shipped with one of the following part numbers affected by this recall:
| | | | | |
| --- | --- | --- | --- | --- |
| 42T4695 | 42T4711 | 42T4740 | 42T4798 | 42T4804 |
| 42T4812 | 42T4816 | 42T4822 | 42T4826 | 42T4828 |
| 42T4834 | 42T4840 | 42T4862 | 42T4868 | 42T4874 |
| 42T4880 | 42T4890 | 42T4944 | 42T4948 | 42T4954 |
| 42T4958 | 45N1022 | 45N1050 | 45N1012 | |
Only part numbers manufactured within specific date ranges are affected by this recall. Lenovo advises customers to determine if they are using one of the recalled batteries by visiting www.lenovo.com/batteryprogram2014 . A list of FAQs about the recall can be found there as well. A list of international support numbers is available at www.lenovo.com/thinkpad/wwphonelist .
If you have a system with a battery that has been recalled, please immediately turn off the system, remove the battery, and only power the ThinkPad by plugging in the AC adapter and power cord.
---
Manufacturer Showcases
The Most Up to Date information
---